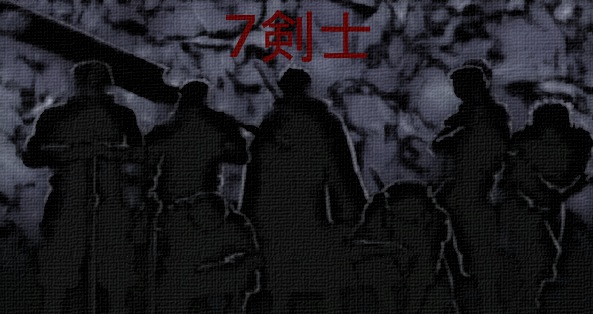 The Seven Swordsmen are the seven most renowned sword wielders in the shinobi world. There can only be 7 of them at a time, no more. Unlike other organizations, there is no structure. No rules or codes of conduct. The only rules regarding membership are below.
*There are no meetings or committees or ranks. This guild is more of a title.
*There can only be 7 famed swordsmen at a time.
*There is no one to answer to in the 7. Nobody can unrightfully take your title from you unless   they challenge you for your seat.
*A famed swordsmen of the 7 will be considered one of the 7 and carry the title until death, even if he/she does not wish to carry the title.
*To join the 7 swordsmen when no seats are available, you must challenge an existing member for their spot.
*If there are seats available, you can self proclaim yourself one of the 7 as long as you are a renowned swordsman yourself. Beware, if other members of the 7 do not recognize your skill to be sufficient, they might..."test"..you themselves and it could get very dangerous. Nothing stops the other members from killing weaklings who claim to be one of the 7.
If you would like to join the Seven Swordsmen, post your character biography below. Be sure to include a picture of your character and weapon. If you do not have one, a description of both will suffice. I can make you a picture of your weapon or character. Your biography doesn't have to be as long as mine.
Last edited by Takeshi on Sun Aug 11, 2013 3:21 am; edited 1 time in total
~~~~~~
Gin Mizukami
(pronounced
Geen Mee-zu-kah-mee
)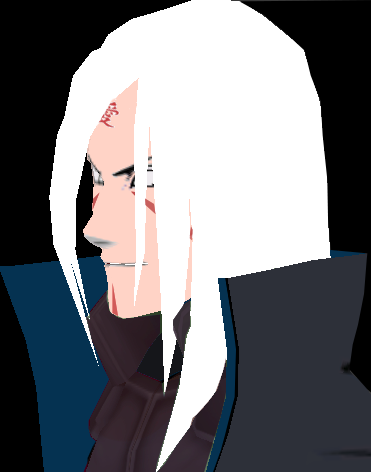 His blade, Sameha "Shark Tooth"
Primary Chakra Type: Water
Secondary Chakra Type: Air
PERSONALITY
: Gin's outward appearance is usually slightly cheery with a fake smile. He thinks of others as idiots, the only thing separating them is their level if idiocy. His usual response to someone's conversation is to smile and nod. Or to just smile and pretend he can't hear them.
Despite his outward appearance, his inner thoughts and ambitions are much different.

Traits ~ Deceptive, Manipulative, Outwardly friendly, Witty
LIKES ~ Personal spaces, Water, Being Noticed, Manipulation and Deception
DISLIKES ~ Most people
Physical Appearance

Kakemaru has long chest length white hair. His eyes can also be described as white, or extremely pale blue/cyan. His skin is light and fair. He has a thin toned build from carrying his huge sword. He wears clothing traditional of Kirigakure shinobi. The first thing people usually notice about him is the huge sword. He sometimes carries a gourd of water with him when traveling on long trips or trips to dry areas with little water.

Background/History:
Gin was a son to a renown swordsmith shinobi of the Hidden Rain. As a fighter his father left much to be desired, but he was best known for his craftsmanship in the swords he created. Gin often helped his father as an apprentice swordsmith and accompanied him on a trip to the land of water to deliver an order. Gin's goal was to become a master craftsman like his father. The night of the trip, aboard the cargoship headed to the country of water, his father told him, if he really wanted be a master swordsmith, he should create a sword as big as his ambition. Determined to impress his father, he locked himself away in the store room with a box of materials and tools and began building his sword. He remained in the room for two days, only emerging to eat and talk with his father. On the third night, the ship was intercepted by Bandits. During the commotion he tried to open the door to leave the store room, but someone had jammed the lock from the other side. Everyone on board was either taken prisoner or killed. Either directly or by drowning in the sinking vessel. The bandits destroyed and scuttled the ship, taking everything of value. When Gin finally came to he was in Kirigakure, the village hidden in the mist, with no recollection of who he was or how he got there. The hospital staff told him that fishermen had spotted him floating off the coast on a huge sword, twice the size of the boy's body. To the fishermen's disbelief, the sword remained afloat despite its heavy weight. It took two men to lift the sword and an additional man to carry the boy. In the end they found it easier to just carry him on top of the sword. Gin looked in the corner of the room where the sword rested. It had Kanji engraved on it that read "Mizukami." Not having any clue who he was, or where he should go, the only thing he could do was join the Ninja Academy, which offered board to students who need it. Gin only knew what the hospital staff and news could tell him. He was on board a ship that was attacked by bandits. Whatever family he had on board was probably killed fighting or died drowning. He blamed their deaths on their weakness, and made a new goal, unknowing of his previous one, to become stronger than anyone he knew.  Gin would drag his huge sword wherever he went until he became strong enough to carry and hold it. The blade would be nicknamed "Sameha" (Shark's Tooth) because of the shape of the blade. Not having a name, the other students and instructors named him "Gin," partly because of his hair/eyes, and partly because of his silver tongue. In his early life, the biggest mistake people would make is underestimating him because of his size, and his sword's.
Later in his life, he would lose his sword and build a new one to replace it...using the tooth and bone of a giant shark. The blade would be called "Hontō Sameha" or "Real Shark's Tooth." The story behind it will be revealed as the character develops.
The pommel of the hilt contains a giant pearl. The tooth and bone of the giant shark is stronger than most metals, and retains it's sharpness even as it wears down due to it's jaggedness.
~~~~~~
Is it possibly to be part of this org and the Anbu black ops?
Academy Student




Posts

: 9


Join date

: 2013-07-22



Yes. You can be one of the 7 and be in any village or group.
~~~~~~
Does Suigestu count? If so, I would be him for sure.
Genin




Posts

: 90


Join date

: 2013-07-12


Age

: 24


Location

: Illinois



You're supposed to create your own character. You could make one similar to Suigetsu. If you look at my character, he's loosely similar to Zabuza since they both have a big ass sword and dark purple Kirigakure flakjacket.

My hope is that Shinobi Risings will have swords in it. (I know they have a katana) So that when the game is released, this group can carry into the game. I think we'll be playing as custom characters so you probably wouldn't be able to play as a canon character like Suigetsu or Naruto etc.
~~~~~~
I am still trying to decided. If i want a character like Tobi or what... Haha. So i may or may not join.

Academy Student




Posts

: 9


Join date

: 2013-07-22



I will join ...

<- Character Image

About the sword dunno just wait until the game start ... Kirigakure 4life...
^
|

Academy Student




Posts

: 3


Join date

: 2013-07-01




---
Permissions in this forum:
You
cannot
reply to topics in this forum